Did you know that the bathroom is one of the most common places for a fall? It is also one of the most dangerous ones. The use of water in this room increases the odds of slipping and having a fall, while porcelain fixtures and tile floors provide a hard landing spot. Trying to climb out of tub while you are wet isn't the safest thing to do, which is why walk-in tubs are becoming so popular, particularly for older adults as well as for individuals suffering from disabilities.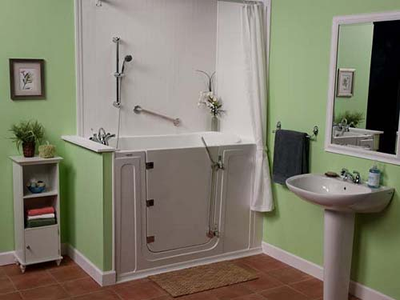 Here are a few of the most common features that you should be looking at when shopping for new walk in bathtubs.
Doors: Do you need a door that swings outward? While most tubs of this style feature doors that swing inward upon opening, a few models exist that have doors that swing to the outside of the tub. A door that swings outward is a better option if you are wheelchair bound.
Size: Available sizes vary so much that it is really important to measure your bathroom and the location where you will place the tub. Is your doorway going to accommodate bringing it into the room? Is it going to fit where you want it to go?
Acrylic versus Fiberglass: Acrylic walk- in tubs clean easily, are resistant to discoloration, and come in various sizes. They feature either an inward-opening or an outward-opening door. Fiberglass walk in tubs are sturdier than acrylic styles, so they often include a built-in seat as well as safety handles.
Hydrotherapy versus Whirlpool: Helping to increase blood flow through the use of water jets, hydrotherapy tubs are designed for individuals with arthritis, fibromyalgia, and vascular conditions. Whirlpool tubs offer a less stimulating experience, but they are helpful in reducing stress and anxiety.
Framing: Solid frames hold up better to the stress created by changing temperatures and aging. Consider stainless steel or aluminum framing for a highly durable bathtub.
Plumbing: The smaller the pipe's diameter, the longer it will take for your new tub to fill up with water. Check out the plumbing.
Flanges: For a tighter fit that minimizes the risk of water leakage and damage, purchase a tub with a tile flange that fits along the wall of your bathroom.
Prices: The range of prices varies a lot, depending on the manufacturer and the tub's features. When you are comparing tubs, look at similar price ranges.
Warranties: What kind of warranty does the tub have? Take the time to read it over thoroughly, looking for the best deal. After all, the tub is going to be filled with water every week, and some wear-and-tear is bound to occur. In fact, one of the most common repairs happens to be the door seal. After a while, it just doesn't fit as tightly, and it needs replacing. Review the warranty and see what it covers.
No two walk in tubs are made exactly the same. If you are going to get something you can be happy with, you should check out all of the options!